In Print & Online
Articles Quoted In
Yahoo Finance:Posting about mental health struggles could hurt how a potential employer views a worker, study finds
MindBodyGreen: How To Manage A Side Hustle Without The Burnout – From Experts & The People Who Do It
Bankrate: Save Money While Job Hunting 
Welcome to the jungle : Mastering salary negotiation during a recession
CBS: The job exit interview: Is it OK to let loose?
Medium: Lynn Berger On How Simplifying & Decluttering Your Life Can Make You Happier
Money: 5 Career Trends That Will Shake up the Workplace in 2023
Next Avenue: Think You Are Too Old to Start Over?
Market Watch: Farewell, Liz Truss — the shortest-serving prime minister in British history. Thank you for all the valuable lessons. Yes, really.
GoBanking Rates:  Should You Be Friends With Your Co-workers
Columbia Journal: Growing Older, Growing Wiser and Happier
Welcome to the jungle: A trip down memory lane: the evolution of the job hunt from 1970 to 2022
Welcome to the jungle: How to supercharge your gig-work résumé when applying to startups
Muse:13 Best Career Tests, Assessments, and Quizzes for 2022
Muse: I Have Layoff Anxiety. Here's How I'm Learning to Cope.
Money.com: How to Convince Your Boss to Let You Work From Home Forever
Wall Street Journal: The New Job Interview Dilemna, How Much to Study a Hiring Manager's Social Media. by Rachel Wolfe
New York Times: Even With a Dream Job, You Can Be Antiwork
Next Avenue: 5 Ways to Find an Age-Friendly Employer
The Muse: How to Read a Job Description the Right Way—So You Can Stop Sending Resumes Into the Void
The Muse: Employers Are Expanding Benefits and Perks in Response to COVID and the "Great Resignation"—Here's What to Look For
Independent:  What To Know About Negotiating Salary Before Accepting A New Job
Muse:  How to Nail Your Answer to "Describe a Typical Workday"
Muse:    How to Answer "Tell Me About a Time You Went Above and Beyond" in Your Next Job Interview
Parade Magazine:  The Pandemic Has Left Us All a Little Depleted, but These 50 Tips for Building Resilience Can Help
Go Banking Rates: Obstacles Different Generations Face in Their Job Search
Medium:   How We Can Leverage The Power Of Gratitude To Improve Our Overall Mental Wellness

Muse: How to write a professional email
Medium: Giving Feedback; How To Be Honest Without Being Hurtful
Cheapism How to Prepare for Working Past Retirement
The Muse How to Answer "What Is Your Work Style?" in an Interview (Plus Examples!)
AlJazeera With new lockdowns looming remote work feels like forever 
Mass Mutual Retooling Your Career During Covid-19.
The Muse How Do You Choose A Hobby To Talk About.
Money Magazine: How to Convince Your Boss to Let You Work From Home Forever
Thrive – Teach and mentor them to respond
Columbia alumni magazine: Career Reflections While Working At Home 
Eat This, Not That! – 25 Ways to Get Through a Tough Day
The Muse – 7 Essential Tips for Working from Home During the Coronavirus Pandemic
LifeHacker – 3 things you should negotiate at work besides your salary
NBC News –Laid off just in time for the holidays? Here's how to cope
Grow – Don't make this common rookie mistake during a job interview, says career expert
Yahoo – 9 ways to be less busy all the time
Marketwatch – How to give someone a better career for Christmas
New York Post – Workers are 'consciously uncoupling' from their jobs in unusual ways
Well and Good – Overwhelmed At Work – OCTOBER 10, 2019
Healthline.com – 9 Ways to Motivate Yourself to Work When You're Struggling Mentally
Dice.com – Thinking of a Career Upgrade? Look Within Your Company- July 24, 2019
She Knows – 9 Important Traits Our Daughters Need When They Eventually Run the World
Muse – 7 Tips That'll Help You Stop Taking Criticism So Personally (and Make it Easier to Move On)
Muse – Here's How to Name Drop When You're Trying to Get a Job (Without Sounding Pretentious)
Business Insider – 16 Signs You Are Underpaid and What You Can Do About It, July 10, 2018
Best Life – 30 Things You Should Never Do at Work, July 9, 2018
KnewMoney.com – Recent Grad? How To Stand Out When Applying To Entry-Level Jobs, June 28, 2018
LifeHacker.com –Three Things You Should Negotiate At Work Besides Your Salary, February 14, 2018
Monster.com –What to expect at the second interview, January 2018
MarketWatch.com – Here's what NOT to do if, like Hoda Kotb, you get a big promotion, January 2, 2018
Thrivent Magazine – Put Your Passion into Action, December 2017
MarketWatch.com – What you can learn from Omarosa's dramatic departure from the White House, December 16, 2017
NBCNews.com – How to Ask for a Raise (And Get One), November 13, 2017
Moneyish.com – Here's when to pull a Gal Gadot and stand up to your employer, November 13, 2017
Inside Edition – Ex-Twitter Employee Says 'I Quit' by Disabling President Trump's Account, November 3, 2017
CNBC.com – This is the best time to send an email, September 28, 2017
Moneyish.com – Here's when to gun for a promotion – and when to stay put at your current job, September 2017
Moneyish.com – When should you discipline a subordinate?, September 2017
Moneyish.com – Should you ever stay at a job you hate?, August 17, 2017
MarketWatch.com – This is how to find a job if your last one only lasted a few months (or days), August 4, 2017
Bustle.com – 27 Questions Every Grown Ass Woman Needs To Be Asking Herself, July 2017
MarketWatch.com – Take these actions now if you fear robots are coming for your job, June 6, 2017
MarketWatch.com – What to do when, like James Comey, you suddenly get fired, May 13, 2017
GBC – Ways To Tell If You Are Really Happy, May 12, 2017
Dice – How to Tell If Your Career Path is on Track, January 30, 2017
Jobs2Careers Advice – 36 Top Experts on the Best Career Resolutions for 2017, December 21, 2016
GoBankIngrates.com: Should you be friends with your co-workers.
Blog-Returning to Work After Having A Baby?, February 18, 2015
Arrive Magazine – Office Detox-Don't Let Difficult Employees Poison Your Workplace, November/ December 2014
FindTheRightJob.com – What Younger Employees Should Know About Older Staffers, October 21, 2014
Monster.com – Think you can't turn volunteer work into a paying job? Think again, August 21, 2014
Proformative.com – The Pitfalls of Loyalty, August 18, 2014
Dice.com – How to Manage Older Tech Workers, July 10, 2014
BusinessInsider.com – How To Stand Out When You're Surrounded By Extroverts, June 24, 2014
Schools.com – 10 ways to ace your post-college job search, June 6, 2014
WinstonBenefits.com – Benefits Communication for Millennials: What Every Employer Needs to Know, May 27th, 2014
Shape.com – Are You Suffering from Secondhand Stress?, March 18, 2014
LifeHacker.com – "Five Things You Should Negotiate at Work Besides Your Salary", March 6, 2014
Forbes Online – 5 Perks Worth Negotiating at Work, March 4, 2014
FastCompany.com – Beyond Your Paycheck: 5 Things to Negotiate at Work, March 3, 2014
Bankrate.com – How To Make A Midlife Career Change, January 2014
AARP, Life Reimagined for Work – Over 50 & Unemployed: Finding Part-Time Work, October 22, 2013
Care.com – 12 Best Part-Time Jobs and How to Find Them, September 9, 2013
Yahoo! Education – Exciting Health Careers You Can Switch To, September 9, 2013
Yahoo! Education – Degrees You Can Earn While Keeping A Busy Schedule, June 11, 2013
SilverAge.com – More Seniors Plan To Work In Retirement, June 11, 2013
Levo League – The Pros and Cons of Gossip in the Office, June 10, 2013
NurseZone.com – Tactics for Getting Hired, from New Nurses to Seasoned RNs, April 16, 2013
LittlePinkBook.com – Missed Milestones, March 28, 2013
FindTheRightJob.com – Need a Job? Get Off Your Butt and Get Out There, February, 2013
Nurse Connect – New Year, New Career? Six Signs It May Be Time for a Change, January 15, 2013
Next Avenue – How to Discover Your Career 'Passion', October 1, 2012
The Jane Dough – "Kill 'Em With Kindness: How To Work With A Micromanager",March 27, 2012
TIME Magazine – "A New Job for Christmas? Why The Holidays Can Be a Great Time to Look for Work", December 19, 2011
The Levo League -"Just Say No: How "Yes" Could Be Hurting You Professionally",December 19, 2011
The Levo League – "When a Close Colleague Receives a Raise or Promotion, and You Don't", November 14, 2011
New York Daily News – "Molly Katchpole, activist in Bank of America protest,?now needs to find a job?", November 7, 2011
Quoted in TIME Moneyland – "I'm Unemployed and I Want to Start My Own Business", September 6, 2011
Menslifetoday.com. Career expert Q+A- August 2011
CNBC – "Falling Down the Career Ladder", July 18, 2011
Quoted in TIME Moneyland – "I Hate My Job and I Don't Know What to Do About It", July 18, 2011
Huffington Post – "Career Change: How To Make It Happen", July 1, 2011
The Fiscal Times – "12 Creative Resumes That Worked", June 28, 2011
TIME Magazine – "Q&A: Counselor Lynn Berger on Shifting Careers", June 02, 2011
WSJ MarketWatch – Five tips for parents to start the new year right. January 13, 2011
Quoted in New York Metro. "A clear message can save your office ego", October 4, 2010
Quoted in Kitsapsun.com, "Can An Online Degree Help Advance your Career?"
Quoted in CNBC Article, "Manager's role: Appealing or appalling?", April 5, 2010
Quoted in Monster.com Article, "Are You Thinking About Contract or Part-Time Work as a Stopgap?"
Quoted in article, "In our co-workers we trust?", February 21, 2010
The Wall Street Journal – Brave or Brazen? Bold Tactics Don't Always Get the Job, August 31, 2009
Quoted in Time Out New York August 2009- "Get A Better Job" issue
"Start by creating a portfolio career with multiple part-time jobs in the field. Career Counselor Lynn Berger calls it a win-win. You get tryout experience which employers like, she says, "but you don't lock yourself in."
The New York Times – How to Make the Best of a Delayed Retirement, July 4, 2009
Quoted in The New York Post, Strike Out Zone.-Saving Your Self Esteem, May 4, 2009
Quoted in 2009 Advance for Healthcare Careers, "Impressing Your Boss"
Quoted in AP Article, "Switching careers? A 4-step plan to ensure success", February 20, 2009
Quoted In AM New York, "City Copes with Layoff Fears", November 3, 2008
Contibuted to Job Action Day-Quintessential Careers , November 3, 2008.
MediaJobMarket.com, Five Keys to Winning the Promotion, August 7, 2008
Quintessential Careers, Fast Track Your Job Search by Networking Through a Professional Association, June 16, 2008
The Boston Globe, "Negotiating salary is best done in person", May 11, 2008
"Is Your Degree Recyclable?" – MSN.com Encarta, February 2008
"Find the job that is your true passion" – The Record, from the North Jersey Media Group, December 2, 2007
"The Gray Ceiling- Break the Barriers of Age Discrimination", by Giordana R. Segneri CMA Today September/ October 2007, published by the American Association of Medical Assistants
Quintcareers.com – Volunteering Can Open Doors to a New Career, July 2007
The Wall Street Journal – Competing Offers Of Pay vs. Prestige Tempt Job Seekers, October 25, 2005
Monster.com – 10 Ways To Keep Busy Between Jobs, May 11, 2004
Quoted in the Tribune Network Newspapers which include Newsday, The L.A. Times and Chicago Tribune on November 30, 2003 -"Winning the Battle of Nerves-Job Seekers Should Show Confidence."
Newsday – Uncle Sam's Aid For Job Hunters / But you can't deduct that new suit, alas, April 6, 2003
The Wall Street Journal – Newly Unemployed Find Posts As Consultants for Ex-Employers, March 11, 2003
Mademoiselle – Is Your Boss Holding You Back?, February 2000
Washington Post – From Job to Lifework: Finding the Path
Quoted on Monster.com
Mentioned in Money Magazine – "Talk Your Way to a Shorter Workweek."
"Seven Tips for Social Networking Online"
"10 Ways To Keep Busy Between Jobs"
Quoted in MyPrimeTime.com – "Career-Prep Your Kids"
Quoted in Wall Street Journal
Quoted in NewsDay.com
Quoted in BusinessWeek.com
Quoted in New York Daily News
Quoted on BlackMBAMagazine.com
"Confident workers are more likely to initiate-and finish-projects outside their job's delineated duties. Such motivation is critical to a career boost, says Lynn Berger, a New York career coach. "Show the extra edge," she advises. Project to your employer that you're motivated, out there, trying and wanting more!" Monthly Broadcast Contributor – MomsRefuge.com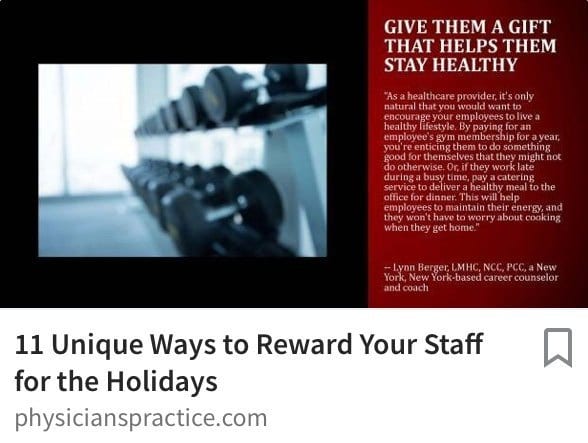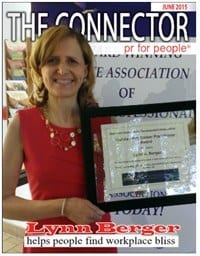 Bustle – 9 Signs You're Probably Not Getting The Job, August 19, 2016
Uproxx.com – An Australian Woman Reminds Us That It's Time To Step Up Our Résumé Game, June 29, 2016
Bravo – How To Skip Work on a Nice Day and Keep Your Boss from Finding Out, June 6, 2016
Mass Mutual Financial Group – Can You Afford a Career Change?, June 2016
Bustle.com – 11 Things To Do Daily For Your Mental Health, So You Can Stay Balanced & Happy, April 18, 2016
PolicyGenius.com – 8 ways to know it's time for a new job, April 2016
PolicyGenius.com – How to talk politics at work, March 2016
Diversity Woman Magazine – Am I A Bad Parent If Travel Without My Kids?, Winter 2016
LearnVest – Got Laid Off? Here Are the First 4 Things You Should Do, January 7, 2016
The Muse – This is How You Name Drop in an Interview
Helpline Center – Volunteering can pay off in your job, November 23, 2015
Knoxville News Sentinel – WorkWise: Freelancers can be corporate ever-readies, November 23, 2015
The Rheumatologist – Tips on Offering Constructive Criticism to Employees, October 14, 2015
Clark Howard – 5 ways to advance your career and take a vacation (paid by your boss), July 14, 2015
Bell Family Company Blog – 10 ways to balance summer with the kids, July 2, 2015
Articles Written
Career Counseling Articles Written By Lynn Berger, NY Career Coach and Articles In Print & Online Where Lynn Has Been Quoted
https://alumni.columbia.edu/news/7-decision-making-tips Decision Making Tips-Published in the Lion Down Columbia University, April 2019. 
Work Start Time and Salaries, Published by Bank Rate April 30th, 2019
9 Ways to Be Less Busy All the Time, Published on Yahoo.com – January 18, 2019, By Alli Hoff Kosik, BRIT + CO
The 8 Best Books for Career Advice, According to Executive Coaches, Published in New York Magazine Dec. 7, 2018, By Maxine Builder.
Turning volunteer work into a paying job, Published on PUNCHNG.com, Oct. 31, 2018
Why You Should Take Time to Mourn During Career Transitions, Grief is common when you leave a job you love, Published in The New York Times, Aug. 23, 2018, By Kimberly Lawson.
Gaps in Employment: Don't Feel the Need to Apologize, Published in The Low Down, Columbia University, June 2018.
5 Stress Reducers for Work and Life, Published in The The Low Down, Columbia University, February 2018.
The Benefits to Volunteering During a Career Transition, Published in The Low Down, Columbia University, October 26, 2017
How to help your grad face a tough job market, Published on CBSNews.com, July 20, 2011
Columbia Alumni Career Coaches Network, February 1, 2016
How Can You Overcome a Career Slump?
Appeared in The Parents League Review 2002-
Parenthood and Career: Thinking About The Choices
Monthly Broadcast Contributor – MomsRefuge.com
Lynn Berger, Career Counselor "Top Ten" lists and articles on MomsRefuge.com
Lynn Berger, Career Consultant "Top Ten" lists and articles on FathersWorld.com