GSC-SHRM Conference
Presented at the 23rd Annual GSC-SHRM Conference, in Atlantic City, NJ – October 19-21, 2014
"Intergenerational communication in the workplace" Lynn Berger, Peregrine Kavros
Human Resources professionals perform many roles for the businesses they serve.
Effective "Intergenerational communication in the workplace" is key to understanding your employees and their needs.
We all need to have effective and respectful communication between the different generations to promote a fulfilling and healthy workplace. Communication patterns differ greatly for older and younger workers and each has their own concerns and challenges. Coaching and awareness around this topic are essential in today's workplace to be able to reach one's potential. The goal of our presentation is to discuss how we can more effectively communicate with one to include a greater understanding and appreciation of the benefits of intergenerational communication in the workplace.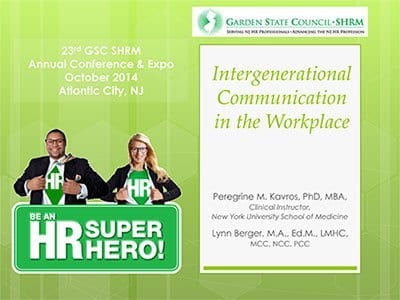 Download the presentation files here